Wisdom, Compassion, and the Interconnectedness of All Beings: Meditating Like Buddha – Part 3
October 13 - 16:00

-

October 15 - 12:00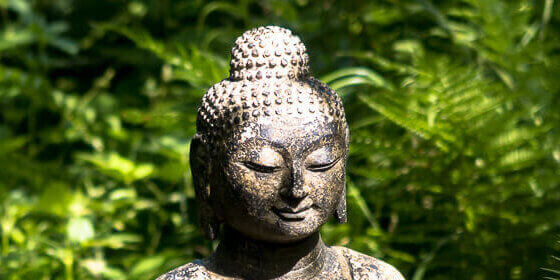 Deepen your meditation experience and expand your understanding of Buddhist teachings in Part 3 of our seminar "Meditating Like Buddha." In this weekend workshop, you will learn how to harness your meditation for the benefit of all, comprehend the connection between body and mind, and explore the profound significance of Mahayana Buddhism. We build upon the foundations of tranquility, equanimity, and compassion you cultivated in the preceding parts.
You do not have to have joined the previous seminars to join part 3 of "Meditate like a Buddha" but you should have some understanding of Buddhist philosophy and experience in Shamata meditation.
Enrich Your Life with the Teachings of Mahayana Buddhism
Discover how to utilize your meditation practice to cultivate compassion and wisdom for the well-being of all beings.

Grasp the deep interrelationship between body and mind and how they mutually influence each other.

Uncover the emptiness of all phenomena and how it contributes to developing a deeper connectedness with the world around you.
The Power of Tonglen: Cultivating Compassion and Transforming Suffering
Immerse yourself in the meditation method of Tonglen, allowing you to embrace others' suffering and foster compassion.

Learn the practical application of "Lojong" slogans to alter your perspective and attitude toward life, gaining a deeper understanding of others' suffering.
Uniting Body and Mind through Yoga and Meditation
Explore the synergy of body and mind through yoga, creating a harmonious union.

Deepen your meditation through "Shamata," calming your mind and nurturing inner wisdom.

The teacher

Lama Thierry is a Swiss "Yogi" who, after twelve years as a Buddhist monk – including six years in retreat – now helps and teaches at our center.
He teaches from his own experience, finds vivid examples from everyday life, which we can easily relate to, and he shares his extensive knowledge of the Tibetan scripture.
He is an avid reader, film and music expert with a sense of humor and a great teacher with infinite devotion to the Dharma.
Seminar Schedule
The seminar begins at 4:00 PM on Friday and concludes at 12:00 PM on Sunday. We will conduct meditation sessions, in-depth theoretical discussions, and practical exercises throughout this period.
A daily yoga session will aid you in experiencing the connection between body and mind. Enjoy ample breaks and time in nature to reflect and deepen your understanding.

Costs
Suggested donation : 180 Euro for full board, accommodation and seminar

This suggested donation helps to cover fixed costs at Gomde.
If you would like to give more, you can help others to participate who have less. If you can not give this amount, please let us know beforehand: nanda@gomde.eu
Book Now