MAITRĪPA ON NON-CONCEPTUAL REALIZATIO
June 30 - 18:00

-

July 2 - 14:00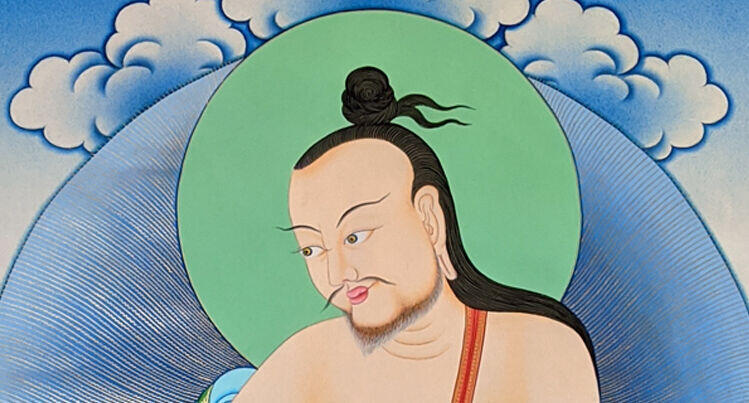 Prof. Dr. Klaus- Dieter Mathes | 30. June 2023 to 2. July
This weekend will be an opportunity to explore the Collection of Texts on Non-conceptual Realization of the great yogi Maitrīpa.
Prof. Dr. Klaus-Dieter Mather will share the results of extensive research, drawing on Maitrīpa's autobiographical writings and literary work. His book on the great yogi is the first comprehensive portrait of the life and teachings of this influential Buddhist master.
Kurssprache: Englisch
The collection of twenty-six texts of Maitrīpas Amanasikāra-Cycle is the result of
blending the essence and tantric mahāmudrā teachings of Saraha, Nāgārjuna and
Śavaripa with a particular form of Madhyamaka philosophy, called 'non-abiding'
(apratiṣṭhāna), which aims at radically transcending any conceptual assessment of
true reality. This goal is achieved by "withdrawing one's attention" (amanasikāra)
from anything that involves the duality of a perceived and perceiver.
The result is a"luminous self-empowerment," Maitrīpa's (986-1063) final tantric analysis of
amanasikāra.
The collection of texts on non-conceptual realization plays a crucial
role, as it constitutes, together with Nāropa's teachings, the main source of Kagyu
lineages.
After an overview of the Amanasikāra-Cycle, we will have a look at how the non-
foundational Madhyamaka tenet of non-abiding was blended with the Mahāmudrā
view and practice of amanasikāra. We will also get to know Karma Trinlépas (1456-
1539) ; which are based on Maitrīpas amanasikāra teachings:
(1) One recognizes the manifold appearances as mind and eats them.
(2) One knows this very mind as empty and drinks it.
(3) Appearances and mind meet in the single taste of emptiness.
(4) Transcending the intellect, one embraces self-awareness as coemergent joy.
Maitrīpa (986–1063) is one of the greatest and most influential Indian yogis of Vajrayāna Buddhism. The legacy of his thought and meditation instructions have had a profound impact on Buddhism in India and Tibet, and several important contemporary practice lineages continue to rely on his teachings.
Early in his life, Maitrīpa gained renown as a monk and scholar, but it was only after he left his monastery and wandered throughout India as a yogi that he had a direct experience of nonconceptual realization. Once Maitrīpa awakened to this nondual nature of reality, he was able to harmonize the scholastic teachings of Buddhist philosophy with esoteric meditation instructions. This is reflected in his writings that are renowned for evoking a meditative state in those who have trained appropriately. He eventually became the teacher of many well-known accomplished masters, including Padampa Sangyé and the translator Marpa, who brought his teachings to Tibet.
Prof. Dr. Klaus-Dieter Mathes is the Head of the Department of South Asian, Tibetan, and Buddhist Studies at the University of Vienna. His current research deals with the "emptiness of other" (gzhan stong) in the early Jonang tradition. He obtained a Ph.D. from Marburg University with a translation and study of the Yogācāra text Dharmadharmatāvibhāga (published in 1996 in the series Indica et Tibetica). He served as the director of the Nepal Research Centre and the Nepal-German Manuscript Preservation Project in Kathmandu from 1993 to 2001. He was then a lecturer and visiting professor variously at the University of Hamburg, Vienna, and EPHE, Paris, until his current appointment in March 2010 as a full Professor of Tibetology and Buddhist Studies at the University of Vienna. In 2014 he and his team hosted the IABS meeting in Vienna and has organized and presented at many other conferences and symposiums. The habilitation thesis was published by Wisdom Publications under the title A Direct Path to the Buddha Within: Gö Lotsāwa´s Mahāmudrā Interpretation of the Ratnagotravibhāga (Boston: 2008). His publications further include A Fine Blend of Mahāmudrā and Madhyamaka: Maitrīpa's Collection of Texts on Non-conceptual Realization (Amanasikāra) (Austrian Academy of Sciences Press, 2015). His latest work, Mahāmudrā in India and Tibet (co-edited with Roger R. Jackson) was published by Brill in 2020. He is also a regular contributor to the Journal of the International Association of Buddhist Studies.
7:30 – 8:15 Morning Meditation
8:15- 9:30 Breakfast
10- 12 and 15- 17 Lectures by Prof. Dr. Klaus-Dieter Mathes
17:00 Protector Practice
The daily schedule is subject to change and may be adapted.
The lectures of Prof.Dr. Klaus-Dieter Mathes can be joined online as well as on-site.
On-site participants will have the opportunity to contribute to the discussion during the course, ask questions and join the meditation sessions offered.
As an online participant, you can ask questions, but will not be able to join the discussions or meditation sessions.
Gomde wants to make the precious Dharma available to all who want to practice and learn it.
You can support us with a donation.
You can orientate yourself on the following value:
With a donation of 180 Euro, you help to cover the fixed costs for board and lodging.
We still offer this course to anyone, who wants to join, no matter the financial situation, although the costs have increased.
If these suggestions do not match your budget, please let us know well in advance. We hope to find a suitable solution for everyone.