FOUNDATIONS OF BUDDHISM: PHILOSOPHY, COMPASSION, MEDITATION
July 5 - 9:30

-

July 9 - 19:00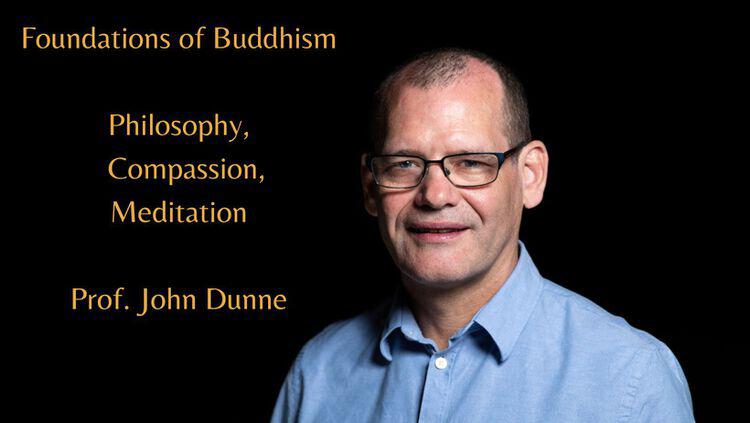 This week will focus on key aspects of Buddhist history, thought, and how we can understand their culmination in the ecstatic songs of the Buddhist practitioners who achieved profound realization (the mahāsiddhas).
Beginning with the fundamental question of how we can transform our lives–and why would even choose to do so–in this week we will explore Buddhist history, the central role of philosophy, and the contemplative practices such as mindfulness meditation that are said to culminate in a liberative awareness, free from suffering. Drawing on both traditional and academic sources, we will explore the Buddhist lifeworld through philosophy, meditation, and ethics.
This course is for you if…
…want to:
understand a Buddhist perspective on philosophy and spirituality
explore how meditation can be a pathway to transformation
appreciate some foundational features of Buddhism that lay the groundwork for the following weeks.
The instructor
John Dunne (PhD 1999, Harvard University) serves on the faculty of the University of Wisconsin-Madison, where he holds the Distinguished Chair in Contemplative Humanities at the Center for Healthy Minds.  He is also distinguished professor in the Department of Asian Languages & Cultures, where he currently serves as department Chair.
John's work focuses on Buddhist philosophy and contemplative practice, especially in dialog with Cognitive Science and Psychology. His publications appear in venues across both the Humanities and the Sciences, including works on Buddhist philosophy, contemplative practices and their empirical examination and interpretation within scientific contexts.
John lives in Madison, Wisconsin (USA). His interests in Buddhist thought and practice emerge in multiple research areas, including work on meditation practices, educational approaches to enhancing student flourishing, and the therapeutic use of psychedelics. On a more personal level, he enjoys music, cycling, mixology, and training guide dogs for the visually impaired.
Schedule
7:30 – 8:15 Morning Meditation at the pond or in the meditation hall
8:15- 9:30 Breakfast
11:15 -12:30 Scholar class
Afternoon
Various contemplative activities
sometimes Q&A with the academic instructor
Group activities
Movement: Yoga, Qui-Gung, walks and hikes
The daily schedule is subject to change and may be adapted.
Join on-site and online!
The lectures of Prof. John Dunne can be joined online as well as on-site.
On-site participants will have the opportunity to contribute to the discussion during the course, ask questions and join the meditation sessions offered.
As an online participant, you can ask questions, but will not be able to join the discussions or meditation sessions.
Your contribution
Gomde wants to make the precious Dharma available to all who want to practice and learn it.
You can support us with a donation.
You can orientate yourself on the following value:
With a donation of 550 Euro, you help to cover the fixed costs for board and lodging.
If you are under 26 and a student, or you have very limited means, a donation of 360 Euros would be appropriate.
We still offer this course to anyone, who wants to join, no matter the financial situation, although the costs have increased.

If you can give more, you help the center deal with the increased maintenance costs, by offering 700 Euros. 
If these suggestions do not match your budget, please let us know well in advance. We hope to find a suitable solution for everyone.
BOOK NOW
[forminator_form id="5082″]